"Equine Portraits by Janine" developed through a personal need of presenting Two Willows horses with elegant, simple, effective and professional photographs.

Inspiration in equine photography comes to Janine each and every day as the beauty of horses never ceases to amaze her. Every time she looks through the camera lens she is inspired to capture the perfect shot. This passion has allowed her to share her photographs with others who love horses.





Click on the image below to view the gallery of photos.
Portraits by Janine
Portraits by Janine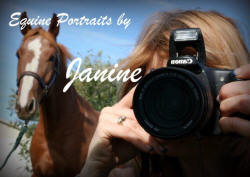 *All photographs are property of Equine Portraits by Janine and cannot be used in any way without the express written consent given by Janine Olson