T.W. Hulla Balou 2014 CWHBA chestnut mare by Bon Balou.

This mare sired by the deceased stallion Bon Balou is out of one of our top scoring premium mares named I Am Canadian. I Am was a hunter riding mare prior to becoming a broodmare.

Hulla Balou has a gentle nature she is initially shy and requires a short time to take in the lesson you are teaching she then accepts and retains what she has been taught. This mare will not be huge and should finish around 16.0-16.1 HH. She was bred for the hunter ring and looks like she will accomplish this easily. She has a hunter trot and rhythmic canter. Current schooling includes basic groundwork, leading, picking up feet and time alone in a box stall. All of our youngsters are used to being caught and handled they are up to date in vaccinations, worming and receive regular hoof care. Hulla Balou has been healthy and has never sustained any injuries, she is sound and unblemished.

SOLD!
T.W. Hulla Balou
T.W. Hulla Balou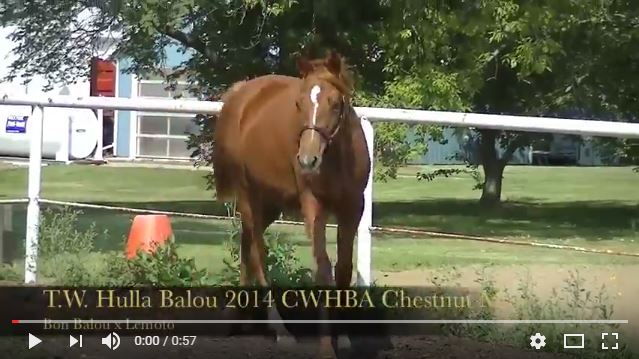 T.W. Hulla Balou

Bon Balou

Balou du Rouet

Baloubet du Rouet

Georgia

La Belle

Argentinus

Larika

I Am Canadian

Lemoto

Levantos I

Dolomite

Pepsi

Fils de Lully

Miss Sprite